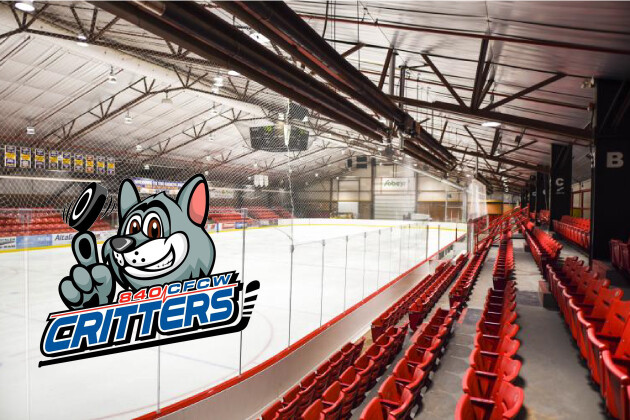 Charity Hockey Classic
2023
Flashback 2016: Hockey for Health comes to Leduc and the CFCW Critters square off against the Foundation's CT Scanners in the Sobeys Arena at the Leduc Recreation Centre, raising money to support the new CT scanner at the Leduc Community Hospital.
Flashforward 2023: The 30th Anniversary Charity Hockey Classic reignites our love of charity hockey. This time the Foundation's Health Heros go head to head with the CFCW Critters to raise funds for the Shimadzu Mobile Radiography System for the Hospital.
Mark Your Calendar
Thursday, November 16, 2023
Leduc Recreation Centre, Aspen Custom Trailers Arena
Doors open 6:00 PM
Puck drop 7:00 PM
General admission tickets $5 per person (plus taxes and fees)
Join us and:

Watch entertaining hockey
Buy a 50/50 ticket hosted by Rotary Club of Nisku-Leduc
Bid on silent auction items (including an authentic Edmonton Oilers autographed hockey stick)
Drop your loose change in the Foundation's wishing well
Enjoy the hot chocolate bar
Bring an unwrapped toy in support of Leduc Santa's Helpers and have your picture taken with Santa
Get Involved
Join the Game
We need 16 sponsored players to join our Heath Heros team and face off against the Critters. There are also two coaches and three officials (one referee and two linesmen) positions up for grabs. We can also provide one guest from the community (between 12-15 years of age) the opportunity to play on the Critters team. If you or someone you know wants to lace up the skates and play with the Health Heros, contact us today. Confirm player participation by October 6 (we need time to get your jersey ready).
Become a Sponsor
Corporate sponsorships mean a great deal to Foundation and to an event like this. With a variety of sponsorship options available (Game, Period, Player, Coach/Official/Fan) it's never been easier to show your support for our local hockey heros and quality health care in our community. Confirm your sponsorship by October 20.
Support the Silent Auction
As if the hockey isn't enough, we'll also have a silent auction at the game. Donate a special item, gift certificate or experience, support the Foundation and get some great exposure for your business or organization. Confirm your silent auction donation by November 8.
No Better Opponent
Also celebrating their 30th year, the 840 CFCW Critters have toured the province since 1993, helping to raise in excess of $1.2 million for health foundations, minor hockey, area renovations, playschools and much more. We're grateful for their support once again and their continued commitment to supporting local charities.