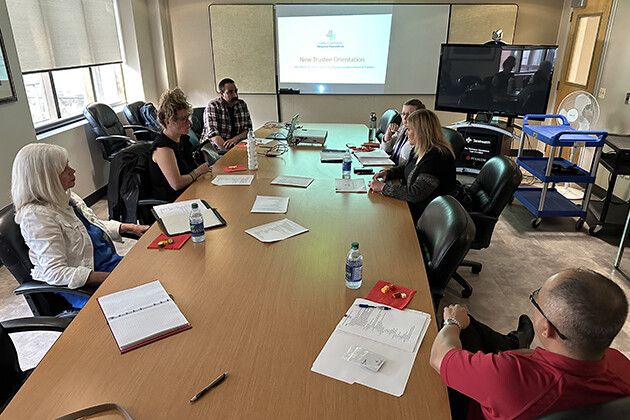 Board and Staff
Exceptional people, unparalleled commitment.
Meet the Board
The volunteers on our Board of Trustees come from all walks of life and bring with them their diverse skills and experiences - from business and management to finance, health, human resources, marketing and more. They also have a passion for enhanced health care and, through their efforts on the Foundation board, seek to make a difference for all people who access health care services in our community.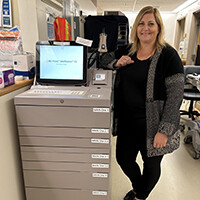 Christina joined the board in 2017 and became the chair in 2020. She loves working with the Foundation to support the community and the local hospital. She is the Director of Logistics Canada for Mass Logisitiks. With 20+ years experience in freight forwarding Christina loves the industry. She recently received the Donna Letterio award for leadership from Canadian International Freight Forwarding Association. She also serves on several other boards as a way to give back to her community and industry. A mother of two grown children, Cody and Dana, you can find her floating on the Devon river or golfing during the summer. Her motto is, "When you love what you do, it's not work."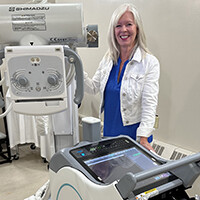 Camille has a strong background in healthcare - having had the privilege to work all the way from the front line to the senior executive level. She brings a business sense and strategic thinking to the board, which is coupled with an enthusiastic desire to support continual improvement of the healthcare system, as one of her values is leaving things better than she found them. Camille and her husband call Leduc home.
Lynette has been on the Foundation board since 2016. She served as Trustee, Chair and is currently Treasurer. In her other life, she has worked for ATB Financial for 25 years. The mandate of ATB is to help Albertans with their financial health, so when Lynette was looking for a volunteer opportunity, the Foundation, which exists to help Albertans with their physical and mental health, was a natural fit. Lynette's many years in the banking sector have given her skills to assist the board with leadership, management as well as a strong focus on financial advice, accounting and investing.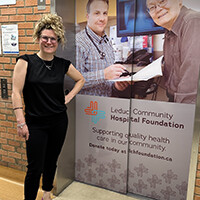 Ali is a strategic manager and a transparent leader who works in municipal government. She enjoys creating a customer-centric culture, fosters employee growth, and is skilled at change management. Ali brings a breadth of marketing, communication and process skills to the Foundation and hopes to continue to enhance health care services in the region.
Ben is the owner and operator of APS Change & Conflict. He holds a Master's Degree in Conflict Analysis and Management and puts his expertise in change management, project management and conflict related skills to work for the Foundation. A father of two and the husband of a Registered Nurse, Ben has seen first hand the real difference the Foundation makes to staff and patients through funding health equipment in service to the community.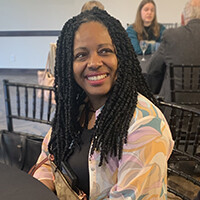 Kirsha is a CPA/CMA who is deeply passionate about helping her clients and is committed to forming lasting relationships. She values continuous improvement and is sought after for her attention to details, integrity and her passion to turn businesses around. As an immigrant herself, she understands the various experiences immigrants may experience as well as the importance of having a strong support structure and community. She believes in volunteering and supporting the community she resides in. Kirsha is a twin mom and enjoys outdoors with her little ones who keep her learning.
Besy Candray is excited to be part of the Leduc Hospital Foundation. Recently accepting the Interim Site Director of Leduc Community Hospital position, she is grateful to be given the opportunity to use her experience and work to serve the community of Leduc and its surroundings. In her spare time, Besy enjoys spending time with her grandkids, being outdoors as much as possible and reading.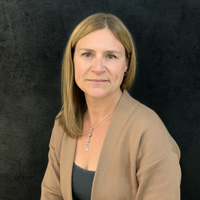 Kristina is a long-time resident of Leduc County who is passionate about her community and a business owner who is keen to put the breadth and depth of her expertise and experience to work for others. Always mindful of the challenges faced by non-profit organizations, she is grateful for the opportunity to serve - putting her skills and resources in strategic planning, operations, communications, public relations and marketing to work for the Foundation in a variety of ways. Kristina has been a trustee since 2017.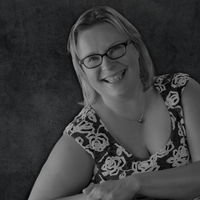 Brenda is born and raised as a farm kid in the Leduc area and has a passion for serving her community. She currently serves as the Knowledge Mobilization Officer for the Poultry Innovation Partnership - if you have a question about chickens she's the one to ask! When she is not serving on boards or committees, she is likely busy travelling or planning her next trip, working on the family farm or creating something in her craft room.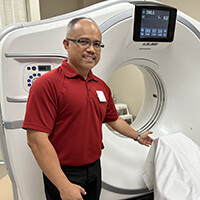 Roger has spent 28 years working with various co-operative organizations in Alberta, Saskatchewan and the Philippines. He moved to Canada in 2009. He was a finance manager, an external auditor and a university professor. He has a Bachelor of Science in Accountancy and Masters in Business Administration. He is a Certified Public Accountant and has completed CPA Professional Education Program through the CPA Western School of Business with a focus on finance and performance management. He is currently working as an accountant at Leduc Co-op. He also manages his own tax and bookkeeping firm. He is an active volunteer at CVITP-Family and Community Support Services (FCSS). Roger serves as the President of the Filipino-Canadian Association in Leduc and collaborates with 18 other Filipino-Canadian Association Leaders in Alberta. He is a father of three great kids – Aevon, Gavin and Mariah – and a husband to a beautiful and happy wife – Andrea. He's a champion karaoke singer and passionate worshipper.
Meet the Staff
Our team is small but mighty and, along with their dedication, they bring an energy and vibrancy to the Foundation that makes great things happen.
Colleen became the Foundation's Executive Director in May 2017. Her affinity to health and wellness stems from personal experiences within the medical system when one of her sons was diagnosed with cancer in 1998. Over the span of 16 years, she saw first-hand how supporting hospital foundations could make a difference to the quality-of-care patients received.  Colleen previously worked within another foundation and has volunteered for many charities and causes in her community, bringing years of fundraising and non-profit experience to the table.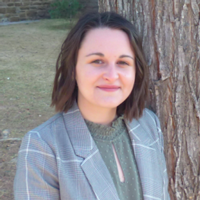 Kailey Cardwell is the Foundation's marketing assistant. If you read it, she likely wrote it, whether on our website, social media or in our newsletter. She is proud to get people excited about the Foundation's mission to elevate the health and well-being of the community. Kailey is also deeply passionate about watching the Oilers win.