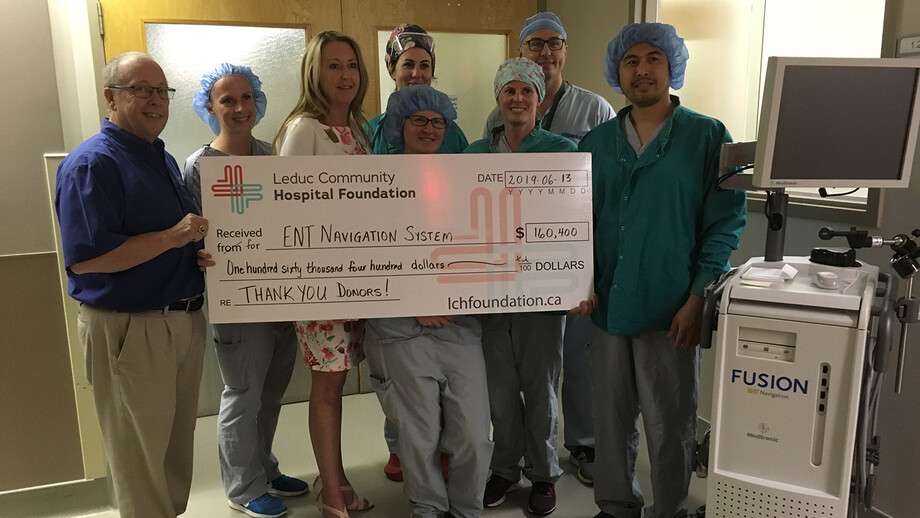 This significant campaign began in April 2018 and concluded at the Annual Golf Classic in 2019 when, thanks to our extremely generous community, the Foundation realized its goal to purchase a new ENT Navigation System for the surgical program at the Leduc Community Hospital.
The ENT Navigation System is an electromagnetic image-guided surgery system that offers reliable accuracy, ease of use and expandability. This specialized equipment will help reduce patient wait-lists, decrease the potential for complications and enable surgeons to perform the safest, most effective procedures.
During the campaign, funds were received from individual donors, local service clubs, memorial donations, third party fundraisers (i.e., Schwabs BBQ, Leduc Coop's Fuel Good Day, Telford House Knitters group, and McHappy Day), corporate granting programs and the annual Oktoberfest event.
"The Foundation is grateful to the donors who gave to the ENT Campaign and any of the projects that we are able to support to enhance health services in our community. That support also includes all of the wonderful sponsors and attendees at events and our great volunteers," noted Colleen Zimmerman, Executive Director.
During this period, the Foundation also completed two additional projects – an Ambu-King Vision System for intubating patients in airway distress that will be used in the outpatient and special care units and available on the ER crash carts ($10,800), and a Carevo Shower Trolley ($15,210) used to bathe patients in a comfortable, dignified and safe manner.