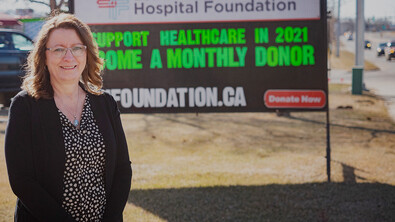 Story by Amelia Schofield, photo by Evan Isbister, published by Alberta Health Services

Meet Colleen Zimmerman, Executive Director of the Leduc Community Hospital Foundation.
Alberta Health Services recognizes May as Health Philanthropy Month. Throughout the month, we will be celebrating our philanthropic partners who raise funds for healthcare across the province.
The Faces of the Foundations profile series will introduce you to the individuals who lead healthcare philanthropy across Alberta. This week, we are pleased to profile Colleen Zimmerman, executive director with Leduc Community Hospital Foundation (LCHF).
Why did you get involved with the Leduc Community Hospital Foundation?
My experiences in healthcare and my passion to help others ultimately led me to this position. One of my sons was diagnosed with brain cancer when he was four years old. We spent years in the pediatric system, so I witnessed firsthand how supporting quality healthcare is important in our communities. When my son passed away at the age of 20 in 2014, my life changed forever and I wanted to somehow give back, especially with regards to health and wellness.
I am also a graduate of the Executive Leadership in the Non-Profit Sector program that was once offered at Grant MacEwan University, and had previously worked for another health foundation prior to coming to Leduc. These experiences and many other volunteer opportunities over the years helped me gain skills and knowledge that I could truly apply to my position at LCHF.
Why is healthcare philanthropy important to you?
Philanthropy is the desire to promote the welfare of others, expressed especially by the generous donation of money to good causes. I have always supported various charities and causes, not only by volunteering my time and talents, but also through financial support. My affinity has always been toward faith, children and health.
In my basement, I have personal "I-Posters" that I have amassed over the years through my volunteering one week each summer as a counsellor at a youth leadership camp. In 2005, under the heading, "two things I want to accomplish in life," I wrote "Become a (better) philanthropist." Applying my personal volunteer and work experiences, and having lived through a devastating family health situation, I believe that I can make a difference in other people's lives.
What are some of the foundation's accomplishments that you are most proud of?
When I started working with the Foundation in May 2017, the board had just submitted a new name change for approval through their bylaws, and they were in the midst of a $1.25-million campaign for a CT scanner — the largest campaign in their almost 25-year history, at that time. That campaign was completed in December 2017, and the name change became official Jan. 1, 2018.
The first couple of years were spent going through the rebrand process, creating a new website, updating donor and office systems, and the start of fundraising efforts for new projects. Since the completion of the CT scanner campaign, more than $270,000 worth of equipment requests have been completed, and another $250,000 in requests were approved this spring. Every department in the hospital, and the local public health centres, have benefitted from the generosity of donors and supporters of the Leduc Community Hospital Foundation. It's very exciting and rewarding to be working with such an exceptional organization, board of directors, and volunteers.
What initiatives are coming up at the Foundation?
Currently, we are running our EXPLORE MORE Health & Wellness Initiative, which will go until Thanksgiving. This is a fitness challenge put out into our community (and beyond) which encourages people to get outside and explore Leduc by walking, running, riding a bike and more.
On Tuesday, May 25, LCHF will be hosting its 28th Charity Golf Classic, which has been running for as long as the foundation has been in existence (with the exception of 2020). The format of play has changed due to health and course restrictions, but it's an opportunity to get out and have some fun, all while raising funds for the foundation.
As there will be no banquet supper at the Classic this year, we will also be hosting an online WISHES COME TRUE Virtual Auction from May 19 – 25. Our first virtual event in 2020 was very successful, so we are looking forward to the spring and fall auctions in 2021.
How can Albertans support the foundation?
There are several ways Albertans can support the foundation, including: making a cash donation directly to LCHF, making a donation in memory of a loved one (whose name would then be added to the Memory Wall located in the Leduc Community Hospital), sponsoring or attending an event, donating an item or participating as a bidder in our virtual auctions, or leaving a legacy gift to LCHF as a bequest in their will.
We are also promoting the foundation's "HIGH $5 for Health" campaign, which encourages donors to sign up to be a monthly donor. For as little as $5 a month, donors can make a difference in the level of quality healthcare available in our community. All proceeds from any of our initiatives and events support our wish list of greatest needs for the Leduc Community Hospital and healthcare centres in Beaumont, Leduc and Thorsby.