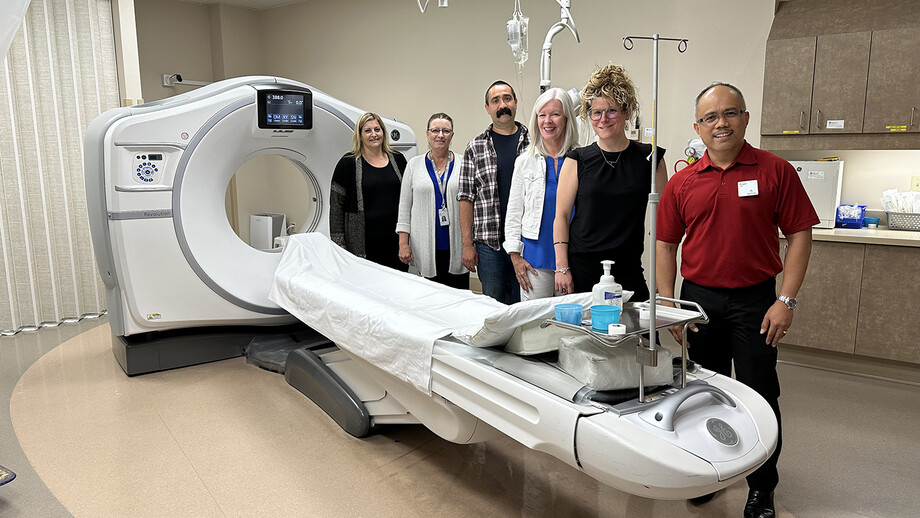 The largest campaign in its history, on April 15, 2015 the Foundation announced it would launch a campaign to raise funds for a CT Scanner at Leduc Community Hospital. This campaign reached out to the community and beyond to help raise $1.25 million to cover the purchase and installation of the machine.
The community came through in a big way. L&T Mix Sand & Gravel Ltd. gave a great boost at the beginning with a $100,000 cheque, and an anonymous $500,000 donation was received in December 2016. Numerous individuals and businesses supported the campaign with personal donations, tributes/memorials and third party initiatives.
On December 8, 2017, at the Spirit of Giving Luncheon hosted by the Leduc Regional Chamber of Commerce, the Lions Club of Leduc presented a cheque to the Foundation for the remaining $200,000 of the campaign and with that the $1.25M goal had been reached.
The CT Scanner was installed in the Leduc Community Hospital and became operational in November 2015. It currently completes over 250 scans per month. This equipment has had a huge impact on the community both for patients receiving the urgent care and diagnosis needed, as well as the economic boost to the Leduc region from patients and families who can be treated locally. Patients no longer need to be transported to other health centres in Edmonton for this service.
The support and commitment from Leduc and beyond was overwhelming and helped the Foundation achieve this significant goal in under three years. This is a testament to the generosity and caring nature of those in our community!