View All News
2023 Health Care Professional Development Award Recipients Announced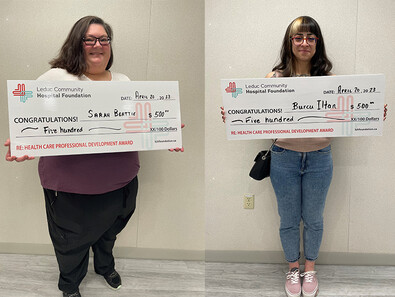 The Foundation congratulates Sarah Beattie and Burcu Iltan as the Health Care Professional Development Award recipients for 2023.
Sarah currently works as an LPN in the Leduc Community Hospital's ER department and enrolled in Advanced Ed in Orthopaedics at Norquest College to refine her skill set when dealing with sprains and broken bones in the ER.
"As an LPN, part of my yearly licensing is completing continuing education to ensure I am remaining relevant and competent as a nurse."
"I have already used things I learned in my program to better assess patients that come in with extremity injuries and I hope to see more Ortho LPN positions at Leduc one day, as a great addition to the services we provide." Sarah Beattie
Burcu is also an LPN in the ER department, working towards her Registered Nurse status through studies with Athabasca University.
"This past semester I worked full time and studied at a full-time course load to meet my goal of entering my final practicum in 2023. During this time, I completed a clinical rotation in mental health, a nursing assessment course and a community nursing course."
"Professional development is important to me because of the ever-evolving environment in healthcare." Burcu Iltan
Established in 2021, the Health Care Professional Development Award supports continuing education and professional development opportunities, such as courses or seminars, for healthcare professionals working in the Leduc region. 
The call for applications for 2024 will take place this fall. This initiative would not be possible without the support of the generous donors and supporters of the Leduc Community Hospital Foundation.
Announcements and updates on Scholarships and Awards are available by subscribing to the Be Well Bulletin and following us on Instagram, Facebook and LinkedIn.