View All News
Foundation Launches $185K Campaign for Mobile Radiography System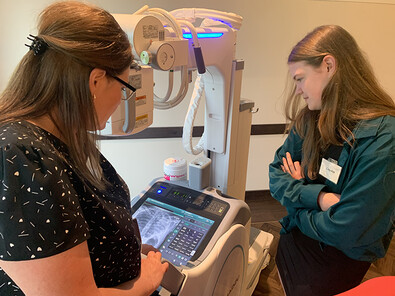 The Foundation kicked off its 30th anniversary year by announcing a new capital campaign for 2023. The goal of this new campaign is to raise $185,000 to fund the purchase of a Shimadzu Mobile Radiography System, to be used in the emergency department, operating room and various medical units throughout the Leduc Community Hospital.
Advantages of this mobile unit include efficiency, image quality, radiation dose reduction (30-50% less) and ultimate patient comfort and care. Images can be processed at the bedside, so it allows for quicker turnaround time for both ordering physicians and radiologists to report images and provide a diagnosis in a timely manner.  
"Not all patients are able to come to the Diagnostic Imaging (DI) department or there are emergent cases that require immediate general imaging," says Natasha Kinshella, Manager of DI for Community Urban/Rural Sites. "This new portable unit will provide improved images and allow for images to be seen on the screen before the DI tech leaves the area."
"The Shimadzu will be a game-changer for the Leduc Community Hospital."
There are mangy ways to support the Foundation's fundraising efforts and this new campaign, including direct donations, monthly giving, bidding on and buying an online auction item and sponsoring or attending an event, including taking part in the Foundation's major fundraising event, the Annual Charity Golf Classic taking place June 2, 2023 at the Leduc Golf Club.
Thanks to the generosity of donors, sponsors and volunteers, every piece of equipment funded through the Foundation helps patients receive the highest quality care, close to home. Since 2013, over 25 projects totalling $1.83M have supported the hospital and the local healthcare centres in Beaumont, Leduc and Thorsby.
The largest project in the Foundation's history was the CT Scanner campaign, completed in 2017. To date, almost 50,000 scans have been achieved thanks to this piece of equipment located in the Leduc Community Hospital.
Comments
I make crocheted headband and scarf sets- can you use one for your fundraiser?
Hi Dianne, please contact us directly at lchfoundation@ahs.ca. Thanks for your interest in supporting the Foundation.