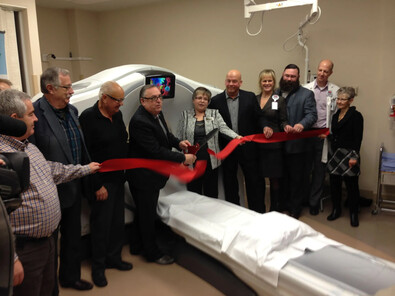 Patients in the City of Leduc and surrounding communities will now have access to specialized diagnostic technology.
A new computed tomography (CT) scanner suite has opened at Leduc Community Hospital (LCH). The scan is considered vital by medical professionals for its quick and accurate diagnosis. It is especially useful for emergency patients and those requiring surgery.
CT scanners hone in on specific parts of the body, providing a 3-D image. They can detect trauma, tumors and infections, as well as detect issues with the spinal cord.
"We were transporting over 600 patients requiring CT scans each year to Edmonton from this facility, and EMS diverted patients with spinal or head injuries in the Leduc County area to an alternative facility that provides CT scanner services," the facility's medical director Dr. Bob Simard said.
In its first two weeks of operation, 19 inpatient and 17 emergency department patients have received CT scans at the hospital. The Alberta Health Services facility serves as the primary emergency centre for several communities, including Nisku, Beaumont and Calmar.
Emergency room visits to the hospital have risen to over 25,000 per year, according to the Black Gold Health Foundation.
The foundation has a five-year plan to raise money to pay for the equipment. Last April, Black Gold Health Foundation launched a campaign to raise $1.25 million to purchase the scanner.
AHS will cover the operational and staffing costs.